A 24 hours sprint-like event focused on collaboration to come up with innovative solutions using technology.
A platform for Muslim youth to learn new skills, meet new people and unlock creativity in an inclusive environment using technology.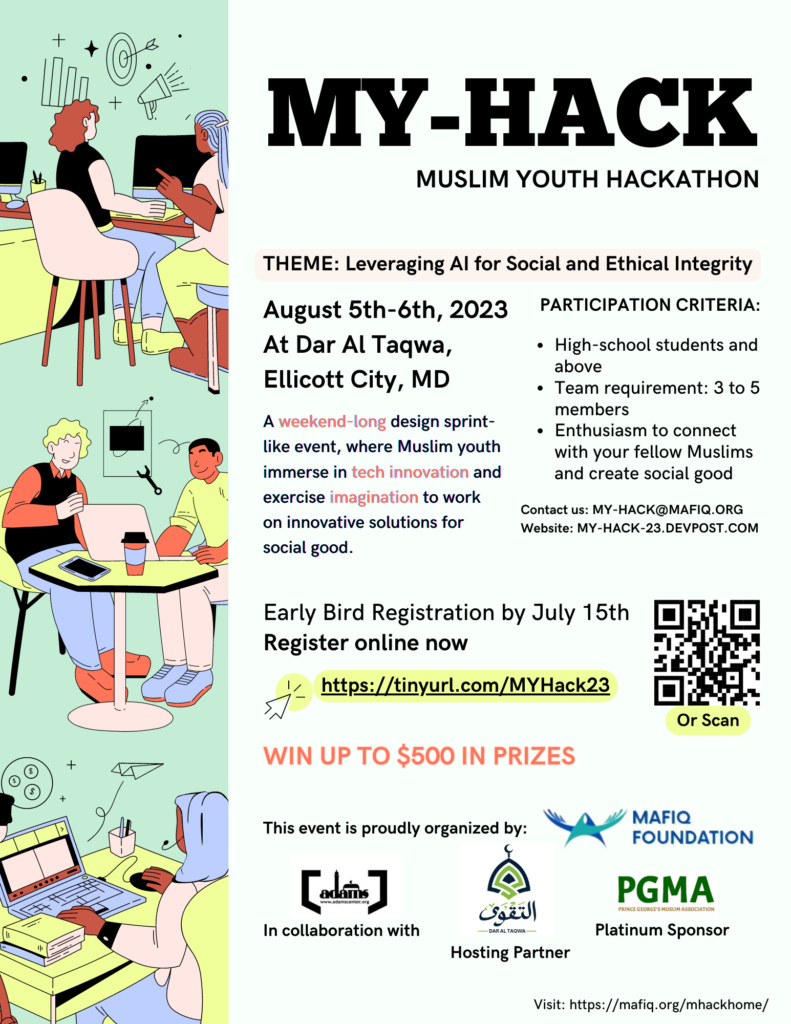 No previous coding experience is required! Teams of 3-5 members will be required to build practical solutions, over a span of 24 hours, for relevant issues impacting the society.
Throughout the hackathon, mentors will be there to help with everything from project ideation, formulation, to development and submission. 
Participate in a fun-filled learning experience! Register here for Participation
Do you wish to be a part of the exciting team that brings this event to life? Register here to Volunteer
To learn more click here: My-hack 2023
Virtual Workshops
Zoom link for workshops click here
August 1, Tuesday, 7 to 9 pm

  – Intro and basic development with MIT App Inventor on day 1 – Br. Anwar Sabri, ImpactTek                       

August 3, Thursday, 7 to 9 pm.

– AI with MIT App Inventor on day 2. – Br. Anwar Sabri, ImpactTek
Virtual Workshop
August 4, Friday, 9 to 10 pm – Secure your Online Presence: A Hackathon Workshop on Online Risks, Threats, and Vulnerabilities

This workshop will help you understand the relationship of online risks with emerging threats, and vulnerabilities. A number of safeguarding principles and techniques will then be introduced from both technical and Islamic perspective, which can be useful in designing your own customized tools for online protection.
Bringing together the best of the community to build a better tomorrow
Participate and Volunteer for enlightening and rewarding experiencing
Valuable words of appreciation from participants, volunteers and judges over the years.
Mafiq is a non-profit 501(C) entity to help charitable, educational and humanitarian causes.