Essays
*Use Times New Roman, 12 point font; no image is allowed in the text. Submit simple text only
*Upload your essay (in MS Word format), poster images, or multi-media files/links. Please make sure that you complete the form completely providing your name, level, and what you are competing in.

DO NOT ENTER YOUR NAME and SCHOOL NAME IN THE ESSAY DOCUMENT YOU ARE UPLOADING.  YOUR submission will be disqualified if your name is found in the essay. 
*The document that you are uploading MUST be titled as follows:
EPC 20XX, Level X , Nth grade, LNAME FINITIAL, SchoolName, Type of submission (essay, poster, or multimedia)
–(Where xx- 22; Nth – your grade; LNAME- last name; FINITIAL- first Initial; SchoolName- 3 letters abbreviated names)
Document Name Example:  EPC2022, Level 5, 10th, MC, AHS, Essay
DO NOT Enter your personal information such as your name and school name in the documents that you are submitting.
–On the subject line mention: EPC 20**, your level , your grade, your last name and first initial, your institution, and the name of the topics (see "sample: essay submission email")
–A few of the abbreviated institution names are listed below:
Al Huda School (AHS); Al Rahmah School (ARS); Tarbiya Academy (TA); Al Fatih Academy (AFA); King Abdullah Academy (KAA); Washington International Academy (WIA); M&S Learning Center (MMLC); ISB, DCA (Diyanet Center of America); PGMA, ADAMS, DAT (Dar ul Taqwa), ICCL, ISWA, MCC, ICM, ICG, etc.
*DO NOT use multiple entries for the same submission. One essay per submission only
*References must be cited using APA Format (http://owl.english.purdue.edu/owl/resource/560/01/ ) – for Quran citation use (Sura #: Ayaha #), and for Hadith, use (Source, Hadith #) or APA format
*Written statements from the parent/guardian and the author confirming that the work was primarily done by the author (Book publication requires that the work is original and their own.) 
*EPC contest is a 3-phase event: Writing, speaking, and publishing.
*Top contestants in the Written Essay contest of each level will participate in the Speech Contest. Therefore, preparing and rephrasing the essay for the speech is highly encouraged for all participants upon completion of their essay.
*All essays, posters, and multimedia submitted for this contest become the property of Mafiq Foundation. Mafiq Foundation reserves the exclusive right to use these materials for publishing, circulating, and promotional purposes.
*An honor statement stating the type of help and the level of efforts that you received from your parents, teachers, or others on preparing the essay must be included. You can upload your honor statement separately.  The title for the honor statement file should be the title of your submission: Honorstatement.  A sample honor statement is shown below: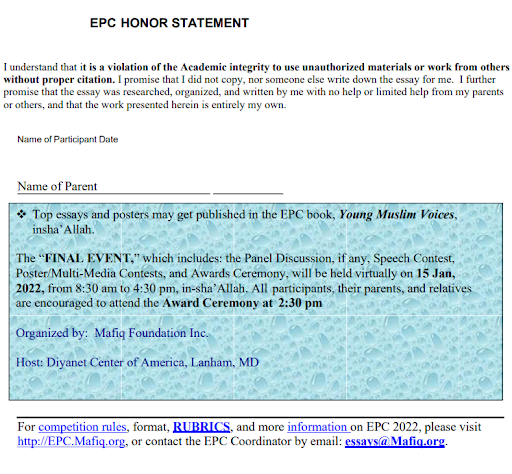 Top Essays and Poster may get published in the book Young Muslim Voices.
EPC Multimedia
The length of the video must not be under 30 seconds and not over 7 minutes. 
All entries must be uploaded ONLY to Youtube as "unlisted".  Submit your entry

here

 (use appropriate submission button)  and you may send a copy to [email protected] 
Videos should be short, concise and leave the viewer with a solution to the topic or pose a question.
More points go towards originality and creativity. Think OUTSIDE the box.
All information presented in the video must be cited, giving credit to the original source in a document attached in the email or included in the video itself.  Plagiarism of any kind will result in disqualification.
No professional assistance is allowed. Adults may assist with production but are limited to verbal guidance only. Adults are allowed to be actors or cameramen but not content contributors.
Use of appropriate Islamic Nasheed/Quran  recitation is encouraged.  For some ideas type in "Humming Nasheed" on Youtube and go from there.
You will be judged on artistic and technical quality, interpretation of the essay topic, and presentation. 
EPC Poster 
*Prepare and display your essay topic on a (32" x 40") self-standing poster. 
*Poster could be a mixture of art and essay.  A quality digital image of your poster is required.  Submit your digital copy by ______ (Visit EPC-Guidelines-2020 for submission instruction). 
*Bring your poster for judging on ______.
*You will be judged on artistic quality and interpretation of the essay topic for the level you are competing. 
*Top three posters in each level will be selected for awards and may get included in the next EPC book, insha'Allah.